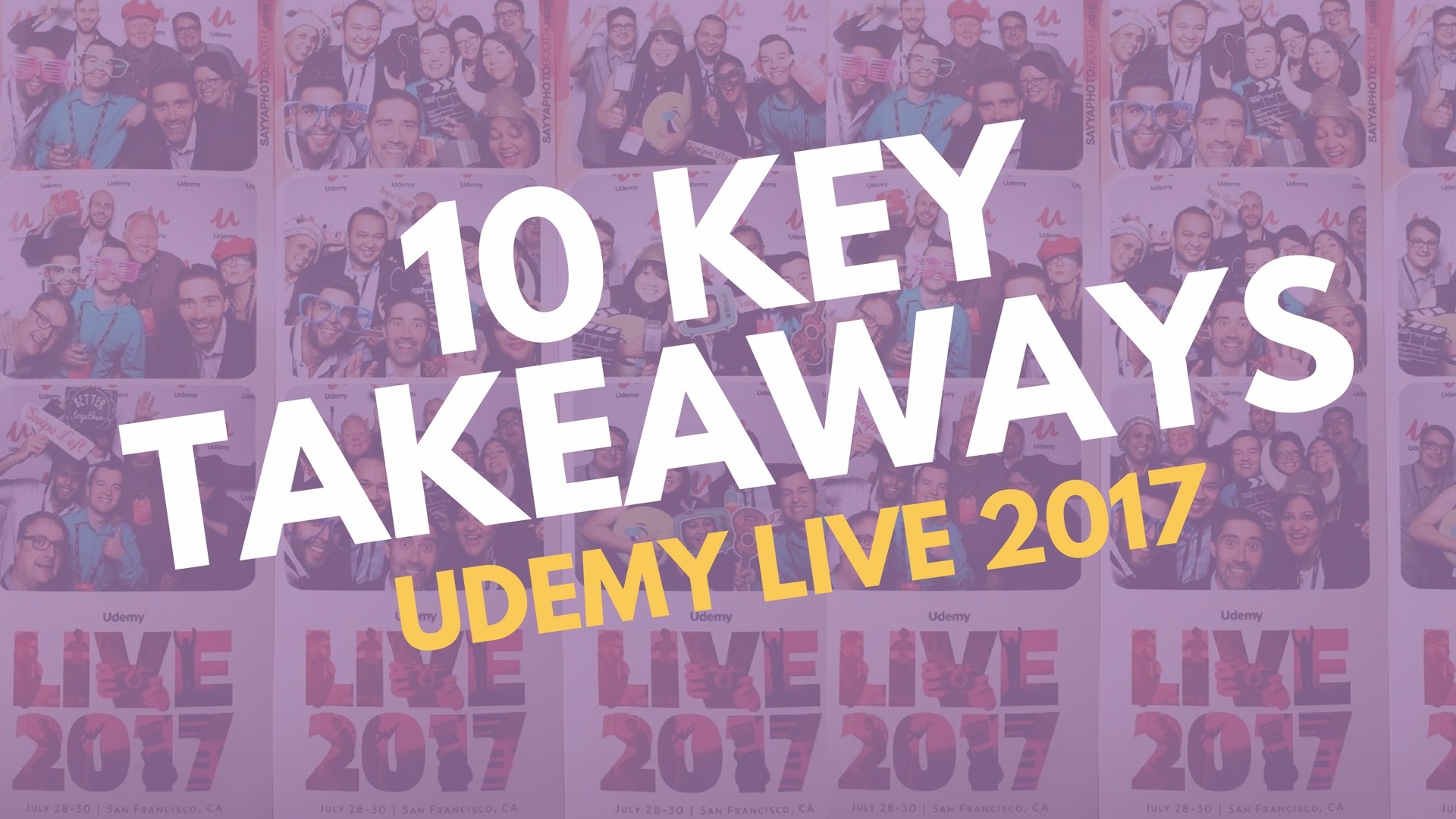 Phil is back from another year at Udemy Live. Here are his 10 Key Takeaways from the conference.
Here's the full post from Video School Online:
Today's case of the Mondays was cured by an inspirational dose of Udemy instructor passion from this past weekend's Udemy Live 2017 conference. I'm writing this the day after the conference to help meditate over what my favorite takeaways were this year. You can read my Key Takeaways from Udemy Live 2016 here.
If you're a student of mine, you have most likely taken a course of mine on Udemy.com, the world's largest platform of online courses. Since 2012, I've been sharing my knowledge with the world on Udemy - and enough students have liked my courses (thank you!) that I have been doing this full time since May, 2015.
Whether you're an instructor or a student, online education is in a period of growth and change. I headed up to San Francisco for their second annual Udemy Live conference to do three things:
Meet with fellow instructors and have a great time
Learn the latest strategies to better serve students from Udemy staff and other instructors
Get a better understanding of where Udemy is in the middle of 2017, and what their future plans are
I'm happy to say that I accomplished all three of these things, which will be better explained if you keep reading.
Phil's 10 Key Takeaways from Udemy Live 2017
In no particular order of importance...
1. Did Today Matter?
Chris Guillebeau of the Side Hustle School podcast and author of the best selling The $100 Startup gave an inspirational keynote about side hustles. The two things that I most appreciated:
1. Side hustles are better done when creating assets.
As course creators, that's what we do. A side hustle driving for Uber or working the night shift at a local restaurant isn't scalable, and probably doesn't fulfill your passions.
2. Create a streak of days that matter.
Ask yourself at the end of this day, did it matter? Thinking about what you spent your time on should give you a clear answer. Obviously try to do something that you think matters. Then, try to create a streak of days that matter.
2. Udemy is More Stable Than Ever?
Was Udemy going to announce some major update?
Was their pricing and revenue model going to be turned upside down?
Were they going to make a major change to course requirements?
These were just some of the things I wondered about before the conference. Last year, we were provided with many answers after the failed pricing change of 2016. Their answers gave me faith, and turned my attention back to creating and promoting courses on Udemy.
This year has been very stable, and growing tremendously! The big goals that they've laid out for the rest of 2017 and beyond include things like:
International growth
Udemy for Business growth
Making it easier for instructors and students to teach and learn
I love all these goals, and these goals are similar to what they were last year. This tells me that what they've been doing has been working well, and that they're going to continue to grow without making any major changes.
Also, speaking to the new CEO Kevin Johnson was great. I point-blank asked if there was anything we should be worrying about as instructors - and he responded that there wasn't, that things were looking very great for the future, that Udemy has money in the bank to keep experimenting but also to fix any issues that come up, and ultimately that his one goal is to continue making Udemy the best place for people to learn skills.
He also said that he was very aware that as a growing marketplace, they need to continue to serve their instructors - and not forget about them.
These are all great things to hear!
But what about the new Udemy branding?
This is probably the biggest change/announcement. It'll take a few weeks to get used to the new color scheme and branding. Personally, I like it a lot. And I don't think that this type of branding change will change the way students learn or how I teach. And hopefully, it does make Udemy an even better and more recognizable brand around the world.
3. Udemy's Focus for 2017/2018
The three areas of focus that Udemy laid out are:
Help students find the right courses
Help instructors make courses easier
Be able to teach anyone, anywhere
The first means that Udemy is doing a lot of work to help students find the specific course that is right for them. This means that it's not just based off keywords in a course title, but also student's goals, course topic, and sub-topics. For instructors, this means better reviews in our courses as student expectations are better matched.
For the second, they talked about streamlining and bettering the way new instructors create courses. For me, this isn't a big deal. I think it's rather easy to set up your course on Udemy. But the less friction their is, the better.
For the third, it means things like localizing payments, price testing in markets with less disposable income, automating captions, and continued expansion internationally...
4. Udemy is Succeeding at International Growth
Instructor revenue from international students has increased by 230% since last year. Currently 50% of revenue comes from outside the United States. Udemy's expectations are that over 80% will come from outside the United States.
I believe this not only means more students from outside the U.S. will be learning on Udemy, but U.S. learners will also continue to grow.
Archie Abrams, VP of Product, gave one interested stat:
40% of Brazilian customers got to the checkout page but didn't actually buy the course
That's a lot of people expressing desire for a course but not making the decision to purchase. Offering courses in local currencies with local payment methods, along with making courses more affordable for people with less monetary power will help this.
And this is just one example of not only how Udemy wants to expand to more students around the world, but how they're making it easier to do so.
5. Stop Marketing Your Courses, Market Yourself
The most inspirational breakout session I went to was hosted by Mimi Goodwin of MimiGStyle.com. She had dozens of actionable steps to growing an online business, but my main takeaway was focus on growing your own personal brand and not just selling your courses.
She's making over $300,000 per year with her Sewit Academy membership site. She's got millions of followers across social media. And she follows the 60/20/20 rule:
60% of your time should be spend educating, serving, and telling stories
20% of your time should be selling your products or services
20% of your time should be inspiring others by actually doing what you preach
Now, I know some people will argue against this idea of marketing yourself, not your courses. And for some people/businesses, I understand you might not want to be the face of your brand. That's fine.
Chris Guillebeau echoed what Mimi preached, talking about people buying courses because of you, not just the information in the course.
And I believe that's partly true. People can find the information for free on YouTube, in a book, on a blog. But you - your personality, your style, the way you teach - aren't on those places.
Over the lifespan of Video School Online, I've gone back and forth between putting myself front and center on the website, and trying to make it a non-personalized brand. I actually think in the future, I'll be making more updates to the site to reflect my personality and style!
6. People Actually Listen To and Love the Online Course Masters Podcast
I started the weekly Online Course Masters show in February, promising myself to do a weekly show for at least one year. Recently, I was feeling like I didn't know if it was actually benefitting people.
At Udemy Live, dozens of instructors and even Udemy team members came up to me and said they enjoy the show!
The show has inspired people to start teaching online. It has helped them get better at it. And that was my goal from the beginning. So I'm definitely planning on continuing to do the show through the first year, and hopefully beyond!
7. Udemy for Business Growth
Along with international growing, Udemy for Business has grown a lot since last year - with 284% more students. Udemy for Business is the corporate training side of Udemy, where companies can access the top 2,000 courses for a monthly subscription (per user).
Udemy splits the revenue from UFB 50/50 with instructors, spreading the instructor pool by minute watched.
I'm obviously excited about any growth that Udemy has. And hopefully I can get more courses in the UFB catalogue. Based off their presentation, it seems like there is tremendous room for growth. It's a $184 billion industry. And I'm sure Udemy wants a larger piece of that pie.
Better analytics and stats seem to be coming by the end of the year for instructors with UFB courses.
8. A Better Understanding of Udemy Search Rank
Ranking courses high according to your topic/keywords is the key to success on Udemy. A session on Udemy promotions and landing page insights provided me with a better understanding on what is taken into account.
What is taken into account for search rank?
Keywords
Recent rating
Conversion rate
Revenue in the recent past
They didn't expand much on the secret sauce, but knowing these things affirms my guesses. We don't know how long they take into account for that last point. But obviously the more your course sells, the higher it will rank.
Having the right keywords (in the course title, subtitle, description, and lecture descriptions) gets you in the door of search results. But this won't increase your ranking.
It seems like reviews is one of the most important factors. We already knew that.
But there was also a key point that was clarified - something that doesn't factor into ranking.
According to Jason Short, in one of the sessions Udemy said that course engagement (length of time watched) does not factor into how they weigh course ratings. So a 5-star rating from someone who watched 100% of a course, equals the same as a 5-star rating from someone who watched 10%.
Also, a 5-star rating from someone who enrolled in free, equals a 5-star rating from someone who paid for the course.
And unfortunately, a 1-star rating from a free student who watches 10-minutes of a course equals a 5-star paying student who watched 90% of the course.
Student reviews left within 5-minutes of enrolling a course are flagged and checked for spam. But otherwise, all rating are equal.
How do we use this data to improve our sales?
Do your own promotions right before Udemy's big promotions. Your courses will be more likely to sell during the sale.
Improve landing page conversions. The landing page factors that are most important are:
Title / Sub-title
Course goals
Promo Video
Curriculum
Description
Rating
This comes from a survey of students done by Udemy. So once someone is actually on your landing page, the title and course goals are most important. Pay careful attention to your course goals, and write them to show the benefit of your course, in a language that your target audience connects with.
9. Have a Newsletter
Gary Rozenweig of MacMost.com did a beautifully succinct and actionable breakout session on content marketing. Like a lot of things taught at Udemy Live 2017, I already knew the premise - it's just taking action and doing it that's the problem.
Having a consistent (i.e. weekly) newsletter is one of Gary's best ways of connecting with his audience, teaching, and selling courses.
A weekly newsletter is just something that I have never done. It's something I haven't cared enough to do properly.
Obviously I should be doing it.
And so I will.
Coming soon is the weekly Video School Online newsletter with amazing tips, lessons, and strategies.
10. Udemy Instructors are My Favorite
We just get each other.
Standing in the bar after the Saturday night gala, I was chatting with a group of friends from my mastermind group. After 30 minutes or so, Isabel (my wife) asked if I wanted to go...
Ummm...
I could spend the rest of the night talking about this kind of stuff.
And so I walked Isabel back to the hotel, and came back to continue our conversation.
:)
I love Udemy instructors. They're some of the only people in the world that 100% understand who I am, what I do for a living, and why I'm passionate about it.
Being the second year of Udemy Live, it was amazing to be able to see people for a second time, but also, to meet so many people for the first time.
I wish Udemy Live could last a week! And next year, I definitely plan on staying longer to hang out with my friends. Hopefully, I can see you before then.
Until next year...
I'll continue to work towards my 2017 Goals with some new ones added. I'm still trying to figure out my exact target audience. There are countless ways I can improve my business.
Thanks to Udemy, I can be supported while I figure out those things!
What were your takeaways from this year?
Please share in the comments below.
Cheers,
Phil